The individuals immortalized at Writer's Corner all spent transformative years in the Central West End. Their time in this historic St. Louis neighborhood shaped their lives and their work. Writer's Corner, at the intersection of Euclid and McPherson, pays homage to their timeless contributions to literature and St. Louis history with sculptures on each corner.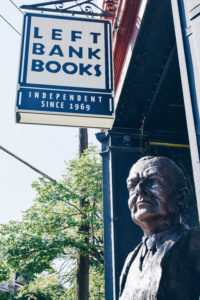 A childhood beside the big river
T.S. Eliot, one of the 20th century's most influential poets, was born in St. Louis on Sept. 28, 1888. Although he rarely returned to the city after completing his preparatory education, he fondly noted its impact on his imagination throughout his life: "It is self-evident that St. Louis affected me more deeply than any other environment has ever done. I feel that there is something in having passed one's childhood beside the big river, which is incommunicable to those people who have not."
Despite his birth in St. Louis, Eliot's identity was split between two places. His family's New England roots frequently brought them back to their summer home in Gloucester, Massachusetts, causing him to later reflect: "I had myself always been a New Englander in the Southwest, a South Westerner in New England."
An escape in literature
The youngest of six children, Eliot was often sick. Poor health kept him from frequent socializing and physical activities. This lead him to seek entertainment and escape in literature.
His family moved to the Central West End when he began his education at Smith Academy, a former prep school for Washington University. At Smith, he began studies in ancient Greek, Latin, French and German. Aside from his studies in foreign languages, he also began composing verse. These endeavors culminated in his composition and delivery of the valedictory poem for his graduation in 1905.
Eliot resided in St. Louis through 1914, making sporadic trips home during his breaks from Harvard University, where he earned multiple degrees. Eliot was somewhat withdrawn and served as the editor of the Harvard Advocate, the university's art and literary magazine. His studies reflected his diverse interests and included philosophy, foreign languages, and ancient and modern literature.
Although he bore no animosity toward St. Louis, he rarely returned to his family home. He spent a year at the Sorbonne in 1910 and returned to Harvard having completed several compositions, including "Preludes" and "The Love Song of J. Alfred Prufrock."
Upon return to Harvard, he embarked on his doctoral work in philosophy. His philosophical education heavily influenced his poetic voice and modernist sensibilities. Upon completion of his degree at Harvard, he left for England and never returned to the United States, eventually becoming an English citizen.
The voice of an era
In London, he met Ezra Pound. This literary friendship would change his life and the course of modern literature forever. Upon Eliot's publication of "The Love Song of J. Alfred Prufrock," Pound exclaimed in a letter to Harriet Monroe, "He has sent in the best poem I have yet had or seen from an American. PRAY GOD IT BE NOT A SINGLE AND UNIQUE SUCCESS." The poem then appeared in Monroe's acclaimed Chicago publication, Poetry.
Years later, the publication of "The Waste Land" in 1922 solidified Eliot's status as a figure of literary genius. For many, the poem expressed the voice of an era, one disillusioned by war and despair. Years of renown followed him as he produced some of the greatest poems of the 20th century. Although his time in St. Louis was brief, his Southwest American roots remained with him and found expression in his writing.
Eliot continued to write poetry, literary criticism and social commentary until his death in 1965. His ashes were then sent to St. Michael's Church in East Coker, Somerset, England, his ancestral village.
T.S. Eliot's bust sits on the southwest corner of Euclid & McPherson. You can learn more about the Central West End's Writer's Corner Project here. 
Posted August 24, 2017 in: Event by Maggie
---