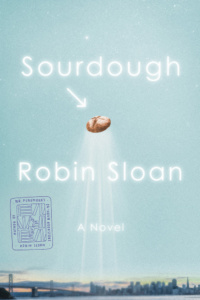 BookFest St. Louis author Robin Sloan's new novel, "Sourdough," celebrated its publication on Sept. 5. See what some of the reviews have to say:
Wit is baked into Robin Sloan's delicious 'Sourdough' (Washington Post): "Add a legendary food activist (think Alice Waters), runaway microbes and a robotic arm, and you get a novel as oddly delectable as its namesake."
Sourdough: a delicious story about nerdism and the flesh, by Robin "Mr Penumbra" Sloan (Boing Boing): "The ensuing tale is one that plunges through so much terrain: microbial nations, assimilation and tradition, embodied consciousness and the crisis of the tech industry, all without losing the light, sweet, ironic Sloanian voice familiar from Mr Penumbra's, a plot that makes the book a page-turner and a laugh-out-louder, with sweetness and romance and tartness and irony in perfect balance."
Starred Review: "Sourdough" (Booklist): "At once a parody of startup culture and a foodie romp, 'Sourdough' is an airy delight, perfect for those who like a little magic with their meals, as in Laura Esquivel's 'Like Water for Chocolate.'"
'Sourdough' rises like a good loaf (NPR): "It is a beautiful, small, sweet, quiet book. It knows as much about the strange extremes of food as 'Mr. Penumbra' did about the dark latitudes of the book community."
Sourdough: Back to basics (BookPage): "Like truly good sourdough, this namesake is the perfectly tangy, chewy and airy addition to anyone's reading list—minus the gluten and calories, of course."
Sloan will appear on BookFest St. Louis' Literary Fiction Panel I, at 2 p.m. Sept. 23 at The McPherson.
Posted September 12, 2017 in: Event by bookfeststl
---