Announcing Our BookFest St. Louis Festival Zone Lineup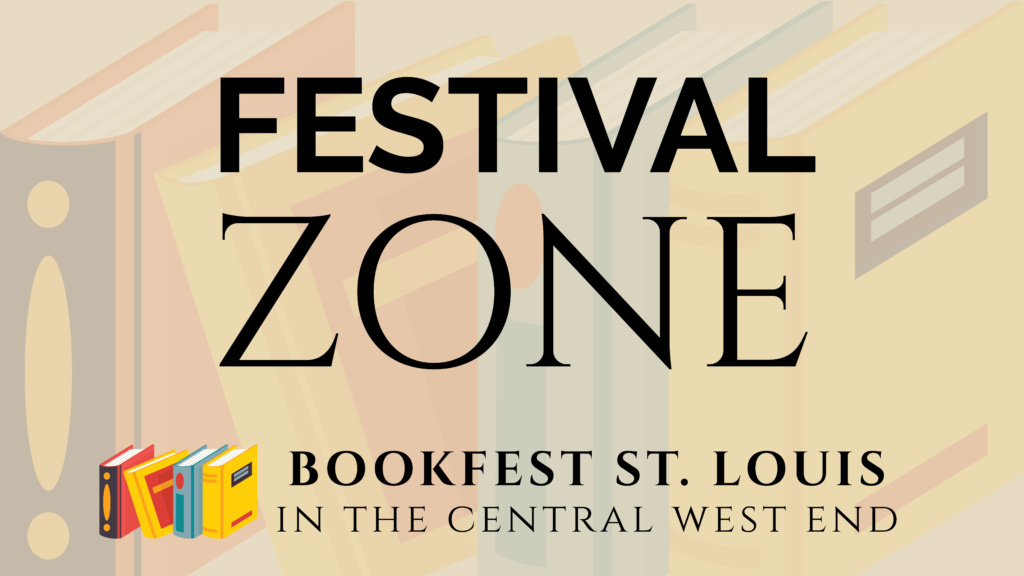 In between BookFest St. Louis author events, be sure to check out the McPherson Avenue festival zone, featuring live music, demonstrations, book sellers, local artisans and more! Open 11 a.m. to 6 p.m. on Saturday, Sept. 23.
What to Do
Festival-goers will enjoy music from Farshid Etniko, Jason Garms Duo and Robbie and the Rockin' Fools while they color Central West End scenes (adult and kid-friendly coloring pages available!), craft poetry on a giant magnetic board and stroll through more than two dozen booths featuring book-themed crafts available for purchase and a variety of family-friendly activities. Book lovers will also want to head north to Ken Botnick's open studio (located right around the corner at 4814 Washington Blvd.) to see a local book maker in action. Tours available from 11 a.m. to 5 p.m. during the festival.
Where to Eat
If you work up an appetite during BookFest St. Louis, be sure to check out the dine-in and grab-and-go options available at one of the Central West End's numerous restaurants. Llywelyn's Pub, Mission Taco Joint and Pi Pizza are all located inside the festival zone, while other great options — full list available here — are all within walking distance.
Participating Vendors
Architrave Press: Bringing poetry to the people with beautifully printed individual poems, organized by genre.
Brave Rave Book: "Brave Rave" tells the story of a family to inspire, encourage literacy, build grit and promote healing through laughter.
Central Print: A nonprofit arts organization that promotes the art of letterpress printmaking by providing workshops, classes and programs.
Eagle Heights Press with author Delia Remington: Eagle Heights Press publishes thriller, fantasy, science fiction, historical fiction, young adult, nonfiction and more. Author Delia Remington will be promoting her most recent publication, set in the Central West End.
Geekery Gal: Jewelry and sass for geeks, chicks and advocates! Geekery Gal reclaims recycled literary materials, turning them into exciting accessories.
The Kabine: A pop-up shop, studio and celebration in a 1965 Airstream. The shop offers stationary and a thoughtful collection of small goods that will outfit and inspire you for travel.
Left Bank Books Foundation: The Left Bank Books Foundation fosters literacy and a love of reading in St. Louis. Working directly with St. Louis Public Schools through River City Readers, they provide students with personalized copies of the best in children's literature.
Mary E. Neighbour: Author of "Speak Right On," Neighbour is dedicated to instigating respectful conversations about race — one on one, with book groups and in workshops.
Melissa Cynova: Melissa demystifies the art of Tarot in her recent book "Kitchen Table Tarot."
Missouri Humanities Council: Created in 1971, the Missouri Humanities Council is a nonprofit that seeks to promote literacy and creative writing, facilitating public conversations on topics including history, religion, archaeology, anthropology and philosophy.
The Novel Neighbor: An independent bookstore filled with new adult and children's literature along with work from local artisans. Their community space offers a cozy atmosphere for private events, parties and more.
Pen & Publish, Inc.: Pen & Publish offers custom printing to authors, small presses and organizations along with creative input and formatting services.
St. Louis Small Press Expo: St. Louis Small Press Expo promotes independent artisans, authors, zines, poets and more at their yearly festival.
River Styx: Embodying the best in non-profit independent literature, River Styx magazine regularly publishes award-winning poetry, prose and art.
Saint Louis Chess Campus: St. Louis Chess Campus offers programming, events and classes for St. Louisans, bringing some of the best in chess from around the world.
St. Louis Poetry Center: The St. Louis Poetry Center offers outreach programs, poetry workshops, readings and an annual Poetry Concert. These events enrich the lives of individuals around St. Louis, making poetry accessible to all.
St. Louis Public Library: The library enriches St. Louis by providing learning resources and informational services that support and improve individual, family and community life.
Smile Big Dream Bigger: A bilingual book and tutoring program that inspires individuals to travel the world, learn new languages and dream big.
Star Clipper: Star Clipper offers one of the city's largest selections of comics, collectibles and graphic novels.
Van Sledge & Zyshawn Production: Van Sledge tells the story of his son in his recent children's book "Zyshawn Camp Adventures."
We Stories: Raising Big-Hearted Kids: Harnessing the power of children's literature to create conversation, change and hope in St. Louis, and a more inclusive future for all.
More coming soon!
The BookFest St. Louis festival zone is free and open to the public.
Posted September 6, 2017 in: Event by Maggie
---
UP