Bassey Ikpi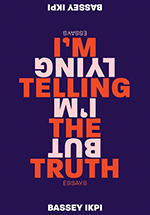 Bassey Ikpi is a Nigerian-American writer and mental health advocate. Her debut essay collection, "I'M TELLING THE TRUTH BUT I'M LYING," is forthcoming in August 2019 from Harper Perennial.
Appearing on stages across the world as a public speaker and TV personality, Bassey featured on HBO's 'Def Poetry Jam' and joined the touring company for their Tony Award-winning Broadway show. She was the resident pop culture critic for Philly's WURD FM radio station and is currently a contributing editor for Catapult. An active voice in pop culture commentary and the mental health community, Bassey's essays have been published by 'The Root," "Ebony," "Huffington Post," and "Essence," as well as the anthologies "Rookie On Love" and "Who Will Speak For America." In 2015, Bassey was commissioned by Nike's global nonprofit Girls Effect to write and perform a short film, Invisible Barriers, which premiered at a panel discussing female empowerment as a means for societal growth at Aspen Ideas Conference.
Bassey is the founder of The Siwe Project, a mental health organization that centers Black and Brown people in an effort to spread mental health awareness. Recognized by MSNBC's The Melissa Harris-Perry Show for her advocacy work, Bassey is also the creator of #NoShameDay, an initiative that attempts to reduce stigma and increase mental health awareness.
As a performing poet, Bassey has opened for Grammy-winning artists India Arie, Luther Vandross, and Alicia Keys. She tributed Venus and Serena Williams at the NAACP Image Awards and opened for Conde Nast Traveler's 25th Anniversary Visionaries Award, performing original poems composed in recognition of attending honorees Hillary Clinton, Michael Bloomberg, Christy Turlington, Olivia Wilde, and Susan Sarandon, among others.
News and Reviews
28 New Books Out In August 2019 To Add To Your End-Of-Summer Reading List (Bustle)
The 10 best new books to read in August, because it's too hot to do anything else (Yahoo Lifestyle)
#ColorlinesReads: 6 Books That Explore How We Construct Our Identities (COLORLINES)
How Writer Bassey Ikpi Intricately Weaves The Art Of Storytelling In Her Memoir About Mental Illness (Essence)
Bassey Ikpi On 'I'm Telling The Truth, But I'm Lying' (NPR)
Bassey Ikpi On Black Women Discussing Mental Health: 'Our Stories Are Enough' (Essence)
The 20 Best New Books Of Fall 2019, According To Authors (Bustle)
---
Related Sessions
UP