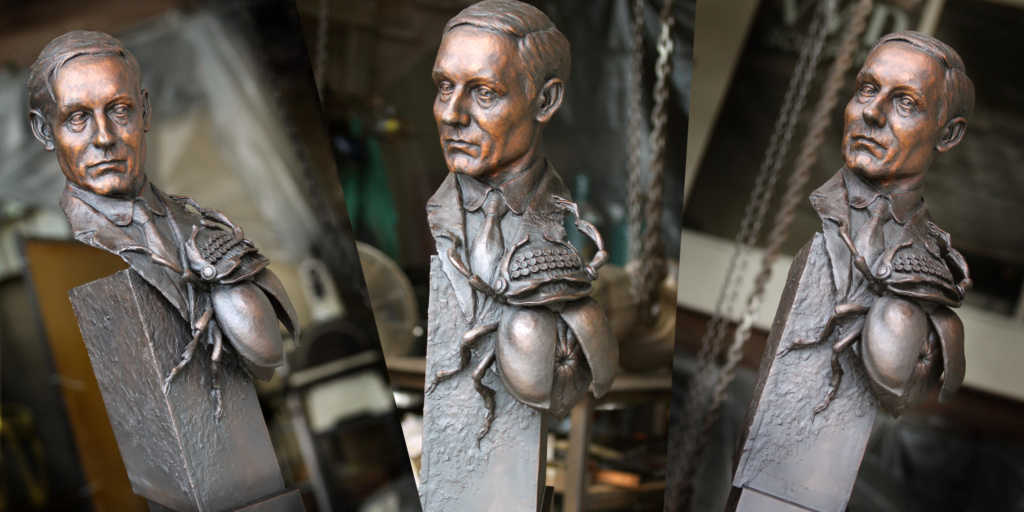 Writer's Corner has been an ongoing project in the Central West End since 2007, drawing attention to the neighborhood's rich literary history.
Busts of three major authors who once resided in the neighborhood — Kate Chopin, T.S. Eliot and Tennessee Williams — have found homes on the corners of Euclid and McPherson over the past 10 years. During the inaugural BookFest St. Louis, a fourth and final sculpture finally joined their ranks.
A sculpture of Beat Generation writer William S. Burroughs (1914-97) was installed on the intersection's southwest corner, outside Left Bank Books, on Sept. 23, 2017. The sculpture was commissioned by the Central West End Association, and funded by the CWEA and the Central West End North Community Improvement District.
Local sculptor Vlad Zhitomirsky, the artist behind the T.S. Eliot installation, also lent his talents in designing and sculpting the Burroughs bust.
"Before these projects, I never realized how many great authors had called St. Louis home. I had always loved Eliot's poetry and used to think he was from England," Zhitomirsky said. "We need visible reminders of these figures to give us a stronger sense of cultural pride."
A long-time reader of Burroughs, Zhitomirsky was eager to take on this final addition to Writer's Corner. Familiar with Burroughs' somewhat-chaotic style, he sought to represent this literary persona in his sculpture. Many people may feel an aversion to Burroughs due his arguably scandalous behaviors: Illicit drug use, frequenting strip clubs, homosexual tendencies and the accidental shooting death of his wife. Not only is his life considered disreputable by many, but his writing may also seem off-putting due to its disjointed style.
If anything, this sculpture is an invitation to move beyond such initial impressions. It offers a gateway into the mind of an experimental writer with an almost mythic past.
Says Zhitomirsky: "No one should judge an artist's work by their life choices. I think we should approach art without bias, allowing it to become a gateway to reflection and discovery."
Zhitomirsky's sculpture is just that. Even for those unfamiliar with Burroughs, his representation of the writer gives us a glimpse into his creative spirit. It is an invitation, much like Burroughs' writing, to enter an unfamiliar realm and allow ourselves to expand.
The sculpture is most notably tied to the author's most famous work, "Naked Lunch." Its shifty eyes exude an air of paranoia, much like the tone of the novel itself. Through this story, Burroughs recreated the feeling and mood of his time, one of fragmentation and absurdity. Visible representations of these existential realities, cast in bronze, both memorialize and enliven his writing. 
According to Zhitomirsky, the completion of these installations represents St. Louis' citywide movement toward cultural awareness and local pride
"Meaningful art is essential to human life and civic vitality," he says. "I hope this is just the beginning of the journey into our city's dynamic history."
Interested in seeing more of Vlad Zhitomirsky's work? Visit vmdsculpting.com.
Posted September 27, 2017 in: Event by bookfeststl
---